Contact us
+86510-8032 0108
WUXI SHINE OPTO-ELECTRONICS TECHNOLOGIES CO., LTD
Add :BLK H1,Jingyuan 128 Innovation Industrial Park, No.88 Qingyuan Avenue, YixingEDZ, Wuxi, China
Contact:Mr. Xiao 15995224775
Email:jonas.xiao@shinopto.com
Tel:+86-510-8032 0108
Fax:+86-510-8032 0109
Web:www.shinopto.com
PC:214213
WUXI SHINE OPTO-ELECTRONICS TECHNOLOGIES CO., LTD Beijing branch
Add: Room 230-1, Block B, Wuyue Building, No. 10, Wujianlou, Fengtai District, Beijing
Contact: Mr. Ma 13901381925
Email: bj@shinopto.com
Tel: 010-5613 6255
Fax: 010-8769 1233
Shinopto New Product Release SDRV01-R & SDRV01-HC
Time:2018-03-29 click:92
After over six months' R&D, Shinopto successfully developed the two new products SDRV01-R & SDRV01-HC in March 2018, and put it into the market in the month.The following is product information:
SDRV01-HC Handle Controller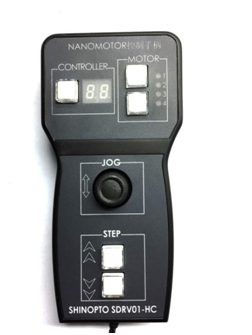 General Description
SDRV01-HC handle controller can be connected to our four channel cascade controller SDRV01-R developed by Shinopto,which is used to control our Nanomotor SNM01 and cascade controller SDRV 01-R. The power supply of SDRV01 is supplied through the 485 interface,so there is no need for an external power supply.
● support up to 4 motors controlled with open loop
● RS485 Serial bus communication
● Support up to 32 drive cascades application
● Selection of cascaded drives with numbered 0 to 31
● Selection of 4 Nanomotor for cascading drives
● Positive and backward single step motion and positive and backward continuous motion
Function and Interface
We can control the 32 controllers though the RS485 bus, the handle can be powered from the main board of the controller through the RS485 bus, without the need for a separate power supply. Finally, the mode of RS485 bus communication is realized, and the miniaturization of Nanomotor controller is completed.
Basic Function
SDRV01-HC handle controller has four basic functions as follows:
(1) controller selection,
(2) Nanomotor selection,
(3) Jog control,
(4) Positive and backward single step motion and positive and backward continuous motion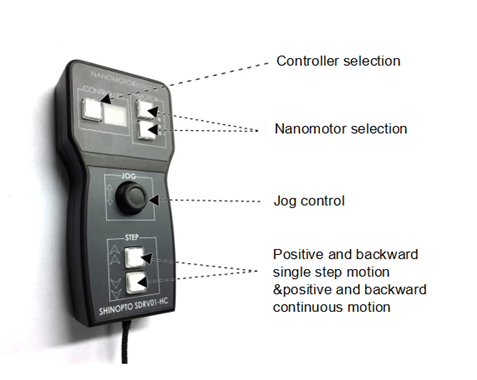 SDRV01-R Inteligent Controller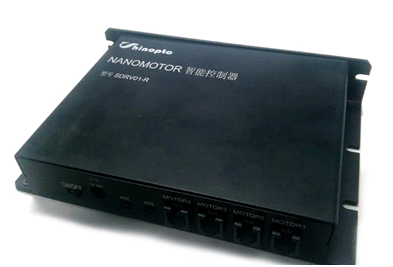 General Description

Shinopto's Inteligent Controller SDRV01-R is designed to control the Nanomotor series actuator. The controller has below features.




Product Features:

● Support up to 4 motors controllered with open loop

● Communication via RS485

● Support up to 32 SDRV01-R multiple controller

Function and Interface

Connecting the SDRV01-HC handle controller through the RS485 bus,and finally achive the purpose of 32 SDRV01-R controller multiple connected

产品详情请点击:http://en.shinopto.com/index.php?s=/List/index/cid/54.html